Rebuilt school draws inspiration for the future from its proud past
The inclement weather conditions on Monday morning March 3rd didn't stop the pupils, staff, parents and the community at large from coming out in force to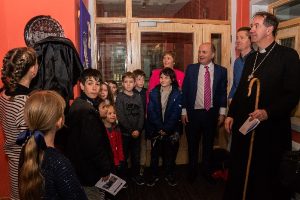 celebrate the official opening of the extension at Christ Church National School, which included the refurbishment of the existing school.
The dedication of the  building by the Bishop, the Right Reverend Michael Burrows, the patron of the school, followed a service at Christ Church Cathedral Waterford.
Christ Church National School with a heritage dating back over more than 150 years, celebrated the official opening of their new extension that creates the base for teaching and learning facilities fit for the 21 st  century.
The new spacious, well-lit building designed by C.J. Falconer & associates architects and built by Tom O'Brien Construction offers high-quality modern facilities reflecting the creative ethos of the school.
The recently completed facilities include a sports hall, a roof top playground and a range of purpose built, flexible learning environments. As well as state of the art classrooms, the building houses multi-purpose and open plan spaces for use as a library and as break-out study areas.
There are excellent access standards throughout the new building which ensure that all facilities are fully accessible to all students. The building has an environmentally sensitive design and blends well with the existing structure.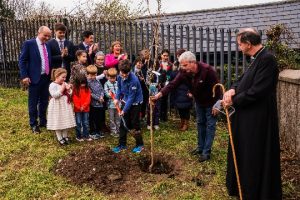 The children played a central role in the celebrations with every family in the school represented either in the church service, the planting of a commemorative cherry blossom tree, the official ribbon cutting or the unveiling of the beautiful commemorative plaque. There was also a special uplifting performance from the school choir. Leslie Warren, Chairperson of the Board of Management said, "This is a landmark moment for Christ Church National School which formally opens our outstanding building fit for 21st Century learning. We are all immensely proud to be part of the continuing history of our very special school."
Janet Twigg, school principal, said, "We are very proud of what's been accomplished by the completion of this project, which reconfirms Christ Church National School's place at the heart of its community. We're delighted to know that our pupils will be benefitting from the most modern of educational facilities, built as they are upon the traditions of excellence in our school." She also paid tribute to the foresight and sacrifices of generations past and present, in providing and improving the fine educational facility.