Bishop Burrows and the Reverend Trevor Sargent attended a garden party at Aras an Uachtaran last Monday to mark bliain na Gaeilge. They were there representing Cumann Gaelach na Eaglaise.
"It was a splendid event," Bishop Burrows says. "Also present was a galaxy of users and lovers of the Irish language from all over Ireland. The garden party also marked the 80th anniversary of the inaugurations of Douglas Hyde as the first President and President Higgins spoke with great eloquence of Douglas Hyde's cultural and constitutional contribution."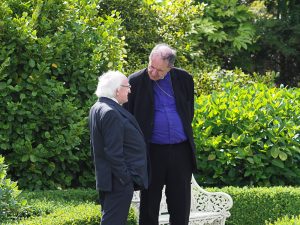 Bhí slua mór i bhfochair Uachtarán na hÉireann Micheál D. Ó hUigínn ag an gCóisir sa Ghairdín in Arás an Uachtáran tráthnóna Dé Luain, áit ar deineadh ceiliúradh ar Bhliain na Gaeilge 2018 agus ar insealbhú céad Uachtarán na hÉireann, Dubhghlas de hÍde 80 bliain ó shin.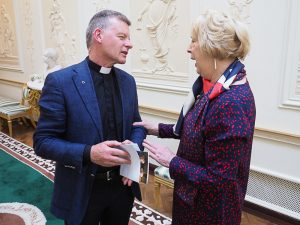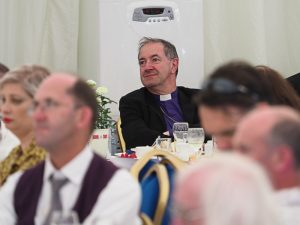 Pictiúir: Tuairisc.ie/Seán Ó Mainnín