Large congregation in Tullow to greet Bishop Empey as he marks 60th Anniversary
A congregation of almost 100 family, friends, parishioners and former colleagues gathered with Bishop Walton Empey as he celebrated the Eucharist for St. Peter's Day in Tullow.  This marked the 60th Anniversary of his ordination, a significant milestone for any priest.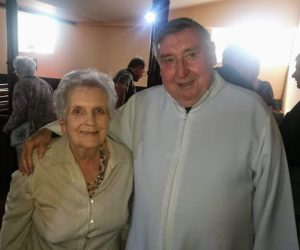 Bishop Walton was ordained on 29th June 1958, and served as curate in Glenageary, Co. Dublin.  From there, he and his wife Louie left for Canada, where he served in the remote parishes of Grand Falls and Madawaska.  He returned to Ireland in the 70's to be Rector of Stradbally (Co.Laois) before being appointed Dean of Limerick. In 1981, he was elected Bishop of Limerick and Killaloe, and from there, he became Bishop of Meath and Kildare, and finally Archbishop of Dublin and Glendalough.
Among the Congregation, giving thanks for his ministry and legendary kindness and good humour, were his wife Louie, his children, Karl, Kevin and Sheila (son Patrick was away) and many of his grandchildren.  Karl and his family had arrived in from California shortly before the service. The readers included his grandchildren Colin and Nyeka.  Many clergy, serving and retired, were present to pay tribute to the close relationship he had with them and many others.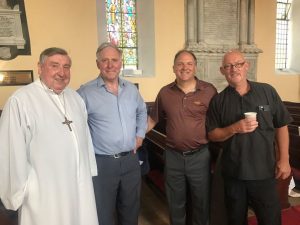 At the end of the service, organist Stephen Adams broke into "Congratulations" with hearty singing from the congregation, and the refreshments provided by Tullow parishioners on a hot day were much appreciated.
Report: Archdeacon Andrew Orr