CHORAL EVENSONG AND INSTALLATION OF CANONS AT ST CANICE'S CATHEDRAL, KILKENNY, ON 18TH NOVEMBER AT 5 P.M.
A Choral Evensong service that included the installation of the Reverend James Mulhall as Prebendary of Aghour and the Venerable Ruth Elmes as Archdeacon of Ossory took place in St Canice's Cathedral, Kilkenny last Sunday evening, November 18th.
The preacher was The Venerable Robin Bantry White. In a wide-ranging sermon where he explained the roles of canon and archdeacon, referred to the messages of the lessons and the season, the now retired Archdeacon also spoke of the skills and insights that Canon James Mulhall and Archdeacon Ruth Elmes will bring to their new roles.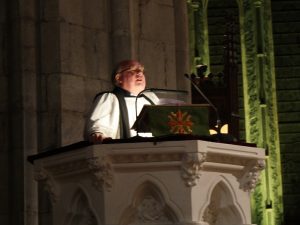 The Venerable Ruth Elmes and the Reverend Canon James Mulhall were joined by their families and parishioners at this special service and afterwards spoke of the occasion being wonderful and of how they found it an extraordinary experience sitting in the ancient stalls and being aware of those that have gone before them.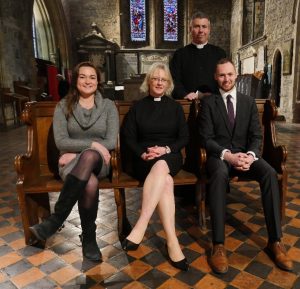 The choir of St Canice's was led by assistant musical director and organist David Forde.
Hear the choir Psalm 95:
The Anthem This place was made by God/Locus iste a Deo Factus Est was by Josef Bruckner (1824-1896). Sumsion Evening Service in A