The Reverend Robert Stotesbury was introduced as priest-in-charge of the Church of Ireland's Killeshin Union of Parishes at a special service in Killeshin Church (Graiguecullen) on Friday night, November 23rd.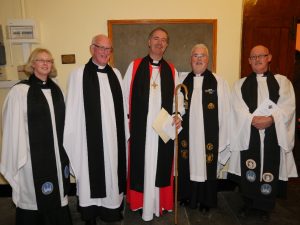 Mr Stotesbury was ordained in 2006 and has served since then as assistant priest in the parishes of Ferns, Enniscorthy and Ardamine.
In this new part-time post, he will be priest-in-charge of Killeshin Union of Parishes which includes Killeshin church (Graiguecullen), Cloydagh, Castletown and Mayo.
The special Liturgical Introduction to Ministry service was attended by parishioners, well-wishers and members of the wider civic and ecumenical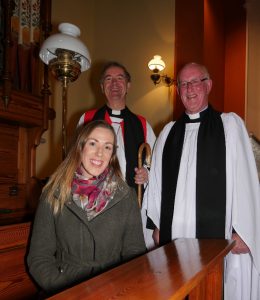 community.
Speaking at the service Michael Burrows, Bishop of Cashel, Ferns & Ossory, spoke of how he had ordained Robert to the priesthood and had watched his ministry grow through the challenges and joys of life in several parishes.
"I am personally delighted that Robert is now taking this new level of parochial responsibility on, in what is a new venture in a model of ministry for this parish", he said.
The preacher, Canon Mark Hayden, rector of Gorey Group of Parishes, spoke of Robert's deep, strong and simple faith and of the good take he has on life due to wide experience drawn from having both 'brass buttons and a collar'.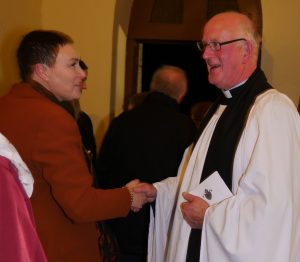 Robert Stotesbury grew up in Mullingar and while he had an interest in ministry in his late teens, he says, he instead joined An Garda Siochana in 1973, serving in Kevin Street Dublin (an old bishop's palace) before moving on to Enniscorthy and later to the traffic Corps, before retiring in 2003.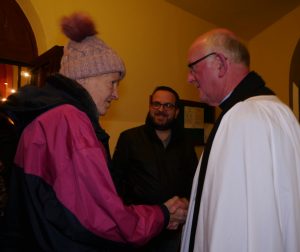 Always involved in his local church he had trained as a parish reader during his time in the force before commencing training for non-stipendiary ministry after his retirement from the Gardai.
His daughter, Laura, read a lesson at the service and his late wife, Heather (nee Griffin) was remembered by both Canon Mark Hayden and Bishop Burrows.
"I am very conscious that Heather isn't here," the Bishop said, "and of how proud she would have been at this moment."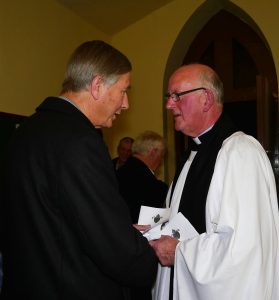 During the service symbols of ministry were presented by members of the parish including by churchwarden Ruth Condell who presented him with the key.
Fr John Dunphy welcomed him on behalf of the Roman Catholic Community of Graiguecullen and Fr Padraig Shelley from Arles was also present.
Readers were parishioner Vivienne Rigley and Robert's daughter, Laura and Ms Dorcas Collier Jnr officially welcomed Robert on behalf of the parish.
"The warmth in the church tonight is very palpable," she said. She went on to speak of 'the gem and treasure we are getting' and mentioned his interest in vintage cars and tractors and in his having once participated in a Late Late Show furniture restoration project.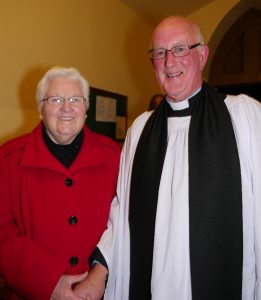 Hymns chosen were Jesus, where'er they people meet, Rejoice, the Lord is King, O Jesus, I have promised and The Day Thou Gavest, Lord, Is Ended.
Bearers of symbols were:
Bible: Vivienne Rigley
Water: Anne Byrne
Prayer book: Mabel Talbot
Bread & Wine: Janet Finlay
Oil: Jackie Neale
Towel: Luke Drought
Directory: Archdeacon Gray
Key: Ruth Condell
The organist was Aisling Carter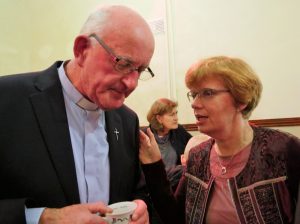 Speaking at the end of the service Robert said that he is looking forward to working alongside the parishioners of Killeshin, Cloydagh, Mayo and Castletown in a pastoral and caring role.
Refreshments were enjoyed afterwards in the nearby School House.