The Reverend David McDonnell was installed as Dean of Ossory and rector of Kilkenny Union of Parishes at a special service in St Canice's Cathedral, Kilkenny on Thursday last, August 30th.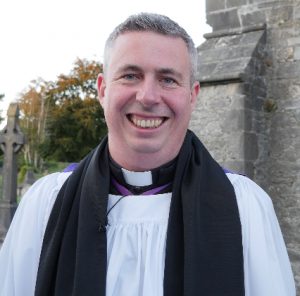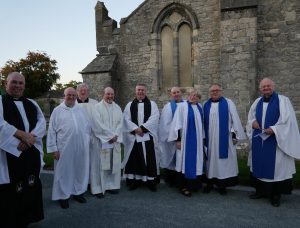 The new dean is from Carrickmacross, County Monaghan and, most recently, was rector of Dunfanaghy Group of Parishes in Donegal.
He succeeds the Very Reverend Katharine Poulton who has moved to Julianstown in County Meath and who was Dean of Ossory for eight years.
Dean McDonnell is 38 years old and from Carrickmacross, County Monaghan.  Training initially as a primary school teacher, he taught for five years in Gaelscoil Cnoc Liamhna in Dublin before being ordained a priest in the Church of Ireland in 2009.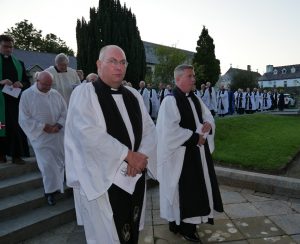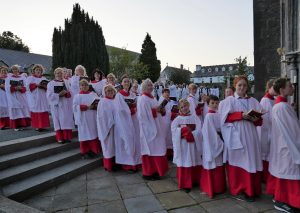 He was Curate of the Christ Church Cathedral Group of Parishes Dublin from 2009-2014, treasurer's vicar of St Patrick's Cathedral from 2011-2014 and also assistant chaplain to St James' Hospital. He also has a keen interest in the music and liturgy of the church and enjoys the arts, history and the great outdoors.
The preacher at the service of institution and installation was the Reverend Canon Marie Rowley-Brooke, a friend of the Dean's, who spoke on the theme of hospitality. After referring then to his pastoral, musical and ecumenical talents she said that Dean McDonnell 'is a gift from God to (the parish) and to the city of Kilkenny'. She asked that he be given the hospitality necessary to enable him to flourish.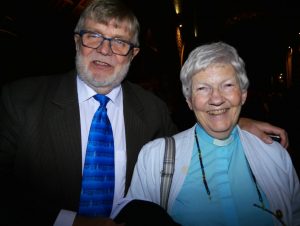 Father Frank Purcell, speaking on behalf of priest colleagues in the wider area of Kilkenny, said that he was delighted to welcome Dean David and that he was very much looking forward to working and interacting with him in the future.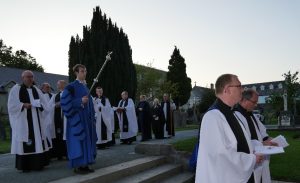 Cathaoirleach of Kilkenny County Council, Eamon Aylward, representing civic dignitaries in attendance including Mayor Peter Cleere, Councillor David Fitzgerald, Tim Butler, Director of Services and Chief Executive Colette Byrne wished Dean McDonnell well on behalf of the people of Kilkenny.
Also in attendance was a representative from the Methodist church and a member of the Defence Forces.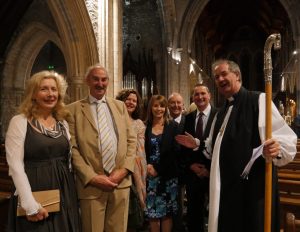 Dean McDonnell was welcomed to the group of parishes that also includes St John's, Kilkenny, St Lachtan's, Freshford and St Aidan's church, Kilmanagh, by Mr Sam Harper, who acknowledged that the Dean had come to the parish with a lot of experience of both rural and city parishes. He warmly welcomed him and also thanked those who had helped run the parish during the interregnum.
Speaking at the end of the service Dean David thanked all those involved in organising the service and preparing the Deanery for his arrival and says that he looks forward to getting to know everyone in the coming months.
Bishop Burrows said that, in many ways, Dean McDonnell's appointment represented the passing on of the baton of ministry to another generation.
He also said that it was very pleasant for him, as Bishop, to greet the new Dean as his rector.
Closing with an anecdote related to a fuel-filling experience in Donegal he told Dean McDonnell that in the midst of all the exciting opportunities surrounding him now, in the big job that he has taken on, and while he should take time to be still, he could 'go like a bat now.'
Refreshments were provided by the parish. The choir director was David Forde and the organist was Mr David Milne. Music included Te Deum Laudamus (to the setting in C by CV Stanford).