The Reverend Trevor Sargent was ordained a priest in the church of God in Christ Church Cathedral, Waterford on Saturday, September 8th. This follows on from his ordination to the diaconate on August 26th 2017, in Shillelagh Parish Church.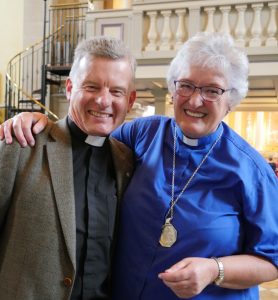 Having gone on to assist the Venerable Andrew Orr in Tullow Group of Parishes he will now be ministering as curate assistant in Waterford Union of Parishes where he will serve with the Very Reverend Maria Jansson, Dean.
Living in Tramore he will be assisting with services in all the churches in the union – Christ Church Cathedral, Waterford, St. Andrew's church, Dunmore East, Christ Church, Tramore and St John the Baptist church, Annestown.
He was ordained in Christ Church Cathedral, Waterford as it is the appropriate diocesan cathedral in this case and a focal point of his new ministry.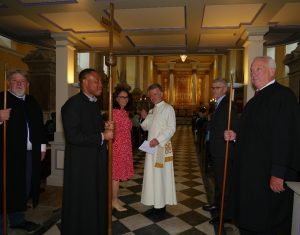 There was a huge attendance at the Cathedral on the day with friends, relatives and former parishioners from Tullow, Wexford (where he and his wife, Aine Neville, have lived for several years) and of course, from the Waterford area.
A bell-ringing welcome took place ahead of the service that saw journalists and photographers from the national media gather, given the Reverend Trevor's previous involvement in politics.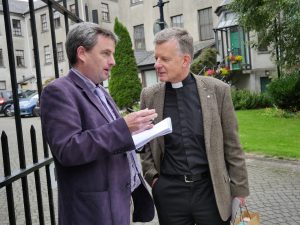 Before the service, Dean Maria Jansson spoke about how it was a big day for Waterford Union of Parishes and of how Trevor would be bringing two key attributes to his role as curate – faith and a pastoral heart.
To hear the rest of what the Dean had to say click on the audio below:
We asked Trevor for his feelings ahead of the service also and he spoke of his excitement about the service and the joy and privilege of celebrating Holy Communion in the future.
Hear more by clicking on the audio below:
This 'ocáid speisialta' was one where we should give thanks for the variety of gifts and ministries that God has bestowed on the Church, Bishop Burrows said, before the sponsors presented Trevor for ordination.
Music included the choir singing the Magnificat as it was the Feast of the Birth of the Blessed Virgin Mary.
Hymn no. 605 Will you come and follow me if I but call your name? was also sung by choir and congregation.
To hear this click on the audio below:
The Venerable Andrew Orr was the preacher and he told the congregation of how it was a pleasure and joy to have worked with Trevor and he talked of the nature of priesthood and of Mary's dream – God's dream – of a better world – a dream that priests, including Trevor, are charged with putting into action.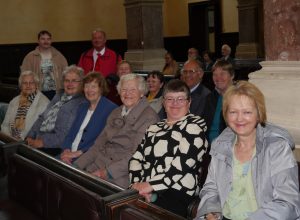 You can read the full sermon at the end of this report.
The remainder of the service including the chanting of the litany by Dean Jansson and the Hymn of Invocation, used at ordinations since the eleventh century Veni Creator Spiritus.
After the laying on of hands Trevor was vested, given a Bible and presented to the congregation to loud applause.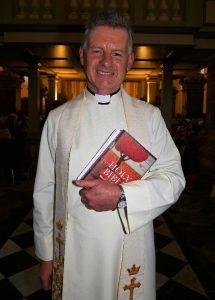 Holy Communion was celebrated by Bishop Burrows during which the choir sang the Agnes Dei – Lamb of God, you take away the sins of the world as well as a Taize Chant.
The hymn Siúil, siúil i solas Dé followed – a hymn also sung in Shillelagh church when the Reverend Sargent was ordained deacon.
The Blessing by Bishop Burrows included an admonition to 'go forth to serve with joy' before he led the newly-ordained priest out of the cathedral, accompanied by representatives of the diocese and of the places where he will serve.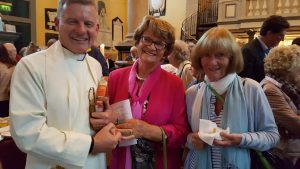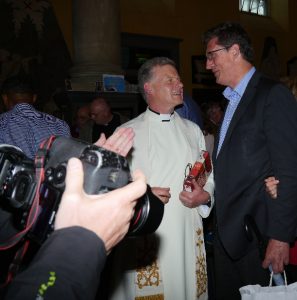 In relation to ordination, Bishop Burrows, speaking after the service, said that he has had the joy of ordaining 14 people either as priests or deacons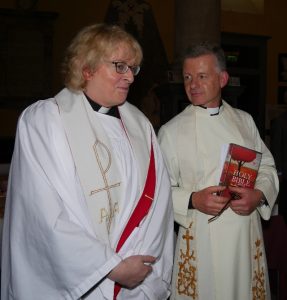 or both.
"Ordination reminds us that all are called to a ministry," he said, "that some are distinctively called to ordained ministry, and that those persons wonderfully reflect the totally of the Body as we know it…male and female, young and not so young, people who devote their entire working lives to ordained ministry and people who, like Trevor, bring with them a rich variety of previous experiences in life and work.
Every ordination is an occasion of celebration and hope for the whole household of faith."
He created a chancel family, Dean Jansson said, 'who not only sang but prayed in its singing'.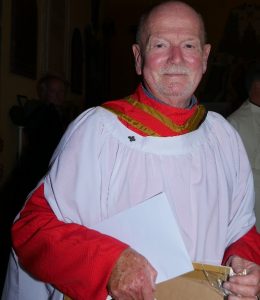 Sermon by the Venerable Andrew Orr:
It is a pleasure and joy to be here, and a pleasure and joy to have worked with Trevor over the last year. He has many gifts, easy-going, kind, hard-working, willing to learn, humble, prayerful, a great preacher, a gift to you all. He brings his experience as school teacher,  a school principal,  fluent Irish speaker, gardener, horticulturalist, beekeeper, campaigner, politician.
I could speak to you of many stories about the time we had together, of his canvassing anecdotes, and his sense of fun.  But I'll tell you just one today. We were a Senior Citizen's Christmas party, and as usual after diner, Trevor and I and the parish priest went around the room, chatting, listening to stories, getting to know everyone and how they were.  Well, I thought I was experienced. But Trevor is brilliant at this: yes of course it's part of being a politician. But it's more than that: it's about genuine interest and care and appreciation for the person he's talking to.  These are not what society judges as important people, Trevor won't gain from them, but he recognised them, as having a story to tell, genuinely interested in what they had to say, as valuable in the sight of God.  Insight into his character. Perhaps it is just a coincidence but about week later I came across a team from Carlow County council filling the potholes in Tullow!
This the feast day of the Birth of the Blessed Virgin Mary.  The accounts the gospels give us of Mary's life are fragmentary, elusive.  And tradition often fills in the gaps. We don't know if this is really her birthday, we don't know if her parents were really Anne and Joachim.  But we can draw out things from her life which speak to us and hopefully to Trevor's ordination today.
            There was long tradition in the church of imagining Mary as a priest, the first priest. Frescoes and paintings form the 4th Century onwards picture her dressed in priestly robes. The institutional church has often suppressed such images, in case that led to "dangerous" notions such as the ordination of women. But is a subversive tradition, which, like a bubble in wallpaper, every time it is squashed somewhere, it reappears somewhere else.  So let us see how what we know of Mary speaks to the new priest and to us all.
            First, and perhaps most obvious, is the call of Mary and her willingness to say "yes".  This is often called Mary's obedience to God, but I don't like that word: it has overtones of dominance and submission: one obeys because one has little choice. I prefer the word "consent", which of course is much in the news these days.  Mary gives her consent to God's invitation through Gabriel, and that Consent leads to the Incarnation, the birth of Jesus. She is does not know what will happen, joy and sorrow will be mixed.
Today Trevor comes to here to seek ordination to the priesthood. The Bishop will shortly ask if that is what he wants and if He believes is called to the priesthood. But he will also ask you the congregation if you consent to the ordination. It is threefold: God calls, Priest consents, people consent. The priest is to model that consent, that "yes" to God without knowing where it leads or what joys or sorrows will be mixed together. And for every priest, sorrow and joy are mixed together.
            The second point comes from the words of the Magnificat the choir sang a few moments ago. It is sung so often we miss its power, its extraordinary vision, its dream of a better world. Count how many times Mary is oppressed, silenced:  First and most importantly she's a woman in a patriarchal society.  She's a young woman, an unmarried teenager, the actual, legal possession of her father. She's a young woman from Israel, a backwater of the Roman empire. She's a young woman from poor, rural Israel.  Finally, she's a Jewish young woman from poor, rural Israel, a religious minority that everyone else in the empire knew were either troublemakers or mad. She has no power, she has no wealth, she has no authority, she has no voice: Until God gives her a voice.
From such oppression flow these words of power.
To recapture something of its meaning, here it is in the modern translation known as The Message:
"His mercy flows in wave after wave
    on those who are in awe before him.
He bared his arm and showed his strength,
    scattered the bluffing braggarts.
He knocked tyrants off their high horses,
    pulled victims out of the mud.
The starving poor sat down to a banquet;
    the callous rich were left out in the cold."
Mary's dream, God's dream of a better world.  One of the most important jobs of the priest in the community is to dream. On the day of Pentecost, Peter quotes Joel "the old shall see visions, and the young shall dream dreams". The priest is to dream of a better world, where wealth and power are not confined to one group, but spread more evenly, where women find they have a voice, and people of colour and LGBT people (that the Church has so often abused) find they have a voice, and people living on sink estates and in emergency accommodation and people living on rubbish heaps across the developing world, and people on Pacific Islands whose homes are disappearing because of climate change, and even the animals and plants whose habitats we destroy to mine more coal, or make more disposable plastics,  or grow more palm oil , even they find their voice.
And once dreamt to put it into action in the local parish, the local community. This is of course, comes at a cost. The mighty tend to object to being put down from their seats, and the rich react badly to being sent away empty.  They will tell us (as Mrs. Thatcher did) that "there is no alternative".  Trevor already knows something of the cost of speaking the truth to power. As a priest he is unlikely to find himself attacked in the chamber of Dublin City Council: but he may find himself misunderstood, he may find that people don't like what he has to say, he may find himself the victim of fake news.  But the priest's role is to say "there is an alternative, there is a more excellent way." And we, the parish, can dream it, find it together.
            God's dream of a new world, finds its foretaste, its pledge for the future, in the Eucharist. Trevor, as a priest, will celebrate the Eucharist tomorrow with the people of this parish. And he will celebrate it then day after day, week after week, bringing the body and blood of Christ to God's people. It is both wonderful and terrifying.
I wonder what Mary made of the early celebrations of the Eucharist, with those friends of her son?  I suspect she may have found them difficult.  The Body and Blood of Jesus? She knew them better than anyone, the Body that came from her body, that she was first to touch in the stable, that she washed and wiped and held and watched as it grew and changed and developed, and the body laid in her arms after he had died. How could others talk to her of his body? It must have been difficult. But perhaps she looked back to those words we call the Magnificat. The Eucharist was and is the Passover, the liberation from Egypt, now repurposed as the liberation meal for all humanity. The body and blood as a necessary sacrifice, given so that everyone could be free. Perhaps Mary could see she had to let Jesus go a second time, as she had let him go to be a wandering preacher, so again he was to be given away for the life of the world. That's the key to today's difficult gospel passage. (Luke 11, 27-28). Family matters, says Jesus, but the liberation of God's people matters more. So, as you gather with Trevor to celebrate the meal together, remember that you are being strengthened for the week ahead to go out and live as you are called to live out God's dream.
             Trevor, I wish you every blessing in your priestly ministry. You won't get every pothole filled. But if you and the people, wherever you find yourself, dream dreams together and put them into action, you never know what difference you will make. The dream of that powerless teenage woman has changed the world again and again. May we all go and do likewise.
END