HOW THE ARTIST SEES
A MODERN PORTRAIT FOR A MODERN BISHOP'S HOUSE
A portrait of Bishop Michael Burrows was unveiled in the Bishop's House, Kilkenny, on December 12th  last.
For anyone interested in how an artist's mind works what Olivia Bartlett had to say at the unveiling about how and why she approached the task was both fascinating and insightful.
Ever wonder where you start when painting a portrait? Why you would choose a particular pose for the sitter, for example? How you would capture the essence of a personality? What angle would be good? What clothes should they wear? What colours would echo their personality or circumstance?
Olivia Bartlett is fascinated by the way the human body conveys experience and emotion, she says, and how the choice of colour, brushstrokes and tonal values combine to set a particular mood in a painting.
"This is a modern portrait to be hung in a modern bishop's house," she said. "Through it I have aimed to present something of what I experience as the essence of Bishop Michael. I do hope, when you see it for yourselves, that it might convey something of this to you."
Addressing the group she thanked the Bishop for the great honour as well as the pleasure of painting his portrait. The idea had come to her after seeing him at an event in Leighlin where she had presented a small painting to Dean Tom Gordon to mark a special ordination anniversary.
Folded himself into the small space…
"The Deanery was full when Bishop Michael arrived after the service and naturally he was offered someone's seat but he refused and sat down on the floor," she says.
"I watched as he folded himself into the small space, relaxed and reminiscing… The conversation flowed, the laughter and good humour with it and I thought here was a person whose portrait I would love to paint.  I wanted to convey something of the enthusiasm, the openness, the sharp focus, the mobility of body and mind."
When Bishop Burrows was kind about her painting she later heard herself offering to paint his portrait if he were willing.
When agreement finally came Olivia asked how the Bishop wished to be portrayed and he responded 'as myself".
"By that he meant "in my black suit and wearing a black shirt" – no purple shirt, no crozier, no cope, no chimere*, no rochet* – no colour to gladden the heart of an artist," she says.
Diagonals lead to the face as the centre of interest
His characteristic way of resting his head on his hand while leaning on an elbow was chosen as the pose on which to base the portrait and drawing attention to the face also became central to the artist's thinking.
"I have composed the portrait such that many diagonals lead the viewer's gaze to move around the canvas to the face from every direction," she says.
"These diagonals not only lead to the face as the centre of interest, they also convey a sense of movement and life."
The Bishop's insistence that he be portrayed wearing just clerical blacks led her to using several shades of black that she made up herself and to painting the table, at which he sits, in a reddish tone.
"The "black" of his shirt was made up of warm tones based on burnt sienna and ultramarine, while the "black" of the jacket is composed of cooler colours based on alizarin crimson and pthalo turquoise and allude to the reflection of the cool light of Ireland.
The reds in the table echo the reds in the shirt and are, in turn, complemented by turquoise in the shadows and to one side of the abstract background.
The other side of the background is purply, silvery grey. I introduced the purply hint as a very subtle allusion to the episcopal: so subtle that maybe I need to point it out. It leads the eye to the episcopal ring and again from there back to the face. It echoes, too, the chain of Bishop Michael's pectoral cross."
The cross becomes part of him
The cross got special attention.
Olivia Bartlett had taken close up photos of the cross prior to painting it and noted by the reverent way with which the Bishop handed the cross to her that it was clearly very special to him.
"The cross, itself, has hard, sharp edges, but in order to make it appear closer to him, I have softened the edges and painted shadows playing across it," she says. "It thereby becomes a part of him, not something laid on top and more about status than what I  believe it to be, something deeply personal and integral to Bishop Michael, himself."
The face is lit up by the bright dark eyes – full of life, turned slightly upwards (another diagonal) and to one side as if in thought and underpinned by cheeks which have been lifted by a warm open smile.
Openess to others as well as to ideas
The body is turned to the viewer – with its open jacket it demonstrates the openness of the sitter  – openness to others as well as to ideas. He is firmly seated but his spine is on a diagonal –  giving a sense of movement which is in turn strengthened by the use of loose flowing brushstrokes."
She then thanked her husband, John, who has known Bishop Michael since he was five or six years old.
"It was when John said "That's him, now stop", that I felt confident enough to show the finished work to Bishop Michael and his wife, Claire. They seemed to approve and once again, I wish to say "Thank you" both to them and to all who have been kind enough to listen to my presentation."
Break out box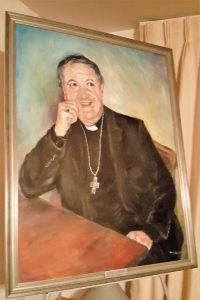 OLIVIA BARTLETT – BIOGRAPHY
As well as being an artist, Olivia is also a psychotherapist, living in Dalkey, Co Dublin.
Her husband, the Reverend Canon Professor John Bartlett, FTCD, MRIA, was formerly Associate Professor of Biblical Studies in TCD, and Principal of the Church of Ireland Theological College.
Olivia began her career as a senior ballet mistress with the Arts Educational Trust in London, where she prepared young professionals for their stage roles. She taught graduate students for the Diploma of Education at the University of London, which led to further study in psychotherapy.
She was the winner of the best in show of the first-ever Signal Open competition in 2013 with a self-portrait, 'Old Woman with two Pearl Earrings.'
Since then she has painted the portraits of two former deans of Christ Church Cathedral for the Chapter House. Her portrait of Dean Tom Salmon was unveiled in 2014 and her portrait of Dean Des Harman was unveiled at the Patronal Festival later that year also.
Her portrait of the late Professor Robert Edmund Blackith (1923-2000), a former Vice-President of the Irish Campaign for Nuclear Disarmament (Irish CND) hangs in the Zoological Department in Trinity College Dublin.
Her more recent portrait before that of the Right Reverend Michael Burrows, Bishop of Cashel, Ferns & Ossory, was of the now retired Right Reverend Walton Empey, former Archbishop of Dublin. This portrait hangs in Christ Church Cathedral's Chapter Room.
*A chimere is a scarlet or black garment sometimes worn by Anglican bishops that resembles an academic gown but without sleeves
*A rochet is a white vestment similar to a surplice, worn by bishops.
Main photo – George Steacy
ENDS