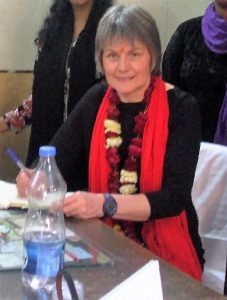 A visit to India for Diocesan reader and Bunclody parishioner, Valeria Power, was a personal achievement.
Travelling with a Christian Aid group from Ireland she arrived in the capital, Delhi, in northern India, on Valentine's Day and spent twelve days in the area visiting projects funded by the charity.
"It was a major trip for me," she says. "It was the first time that I'd travelled on my own and been responsible for myself so it was a big step. I was apprehensive, too, about visiting a continent so different from Europe and where there is such poverty."
Valerie had attended an information evening about Christian Aid in Kilkenny in November 2016 and availed of the last place on the trip.
"Going to India had never crossed my mind before that and here I was being offered the opportunity to go. It took me several days to decide as the thought did frighten me a bit. I could have put it off for two years but I said 'No, I'm well now so I'll go'.
After a long flight to Delhi the group she was part of were greeted at the airport by garlands of flowers and green love hearts made by their Christian Aid hosts – and high security.
Crowded streets, heat, cattle roaming free…
"It was difficult to take in," she says of first impressions as they drove through Delhi streets. "They were so crowded, mostly young men everywhere, cattle roaming free, the smell of spices and 28 degree heat and a huge volume of traffic. Although drivers don't drive fast, vehicles weave in and out and cars turn off without indication or pull out from side streets suddenly into the flow of traffic. There are very few accidents considering…"
Valerie takes out her photograph album – a solid record of her visit – and admits to feeling overwhelmed by much of what she saw.
"It was much worse than I expected, to be honest, though I had tried to prepare myself. Visiting a school supported by Christian Aid we drove through slum areas where there were markets everywhere, rubbish areas going on for miles. I found it hard to understand. The poverty was so extreme and the slums so vast."
Three hours in school – and bananas 'to go'
The visit to a primary school supported by Christian Aid was moving.
"I had come laden down with gifts of pencils and rulers and sharpeners for the school children from the children in our own primary school in Bunclody," she says.
"When I saw the condition of the school I felt that these were very luxurious gifts for the children. When I showed them photographs of our local school in Bunclody all 72 wanted to come to Ireland. It was good to see that all the children were nicely dressed and looked healthy though. They'd gone to a lot of trouble for us, putting an Irish blessing up on the wall, for example, but overall it was hard to come to terms with the circumstances there – everything was very basic.  Many of them were migrant children who walk barefoot for miles but they all love to come to school to meet their friends, just like Irish children do."
The school operated from 8 a.m. to 5 p.m. with three groups of children being taught for a period of three hours.
"Each child is given two bananas when they leave each day."
Witnessing difficult situations
The following day had its challenges too. The group visited a widow whose husband had been murdered and whose home had been burned after a local dispute.
"I still think of her, wondering how she is. This lady was around my own age and was from the dalat caste. People in that caste, particularly women, are very badly treated. There is no respect for them. When I was coming away from this lady, I felt for her. She was unsafe and her family were afraid to help in case of serious consequences for them. It was very hard to take in. A few hours earlier we'd been in Heathrow airport and here we were now witnessing such a situation…"
Valerie's most positive memories are of a successful bee-keeping business.
"There is a great demand for honey in India so the project which has been running for two years is profitable. We were delighted to see where our money was being used so well. The project was making a real difference in that community. It was all run by women who are very proud of what they do. The project was unlike any factory here, however. There was no fancy entrance, no buildings, just hives on the side of road and we walked through the rubble and the scrubble to the beehives to meet the women who were so delighted that we had come from Ireland to see their work."
Women's lowly position in society difficult to accept
Again, Valerie found women's lowly position in a caste-dominated society difficult to accept.
"We found that the men had the nice jobs – as receptionists and waiters in the places we stayed. There were even men cleaning the rooms and carrying the bags – no women working at all that we could see."
The trip also included a visit to a group of young women affected by domestic violence.
"I found that challenging also. They were in their early twenties and had suffered abuse from early on in their marriages, often because their families weren't able to meet the agreed dowries. They would be treated badly because the money didn't come through. Hearing their stories, which they were very willing to share with us, was very moving…"
Some of the women had gone on to be educated, however, thanks to Christian Aid support, which was very gratifying.
"Some now had degrees in business or geography. They were full of life and danced for us and I felt that there was a place for them in the world. It was great to see that a vast difference was being made by the CA projects, many of them long-term ones."
Asked to sum up India the word that springs to Valerie's mind is 'chaotic' and no, she wouldn't like to live there.
Train platforms with huge volumes of people
"Train journeys were something else," she says, "with people literally hanging out of windows. They were so overcrowded and a two hour delay would be common. The platforms had huge volumes of people and many swarmed around us because of our white faces and difference…"
The group of Irish visitors came together in the evenings to share their joys and sorrows related to each day, she says, in prayer and fellowship, and to speak positively of what they were going to do the next day.
"We visited the Taj Mahal at one point but I couldn't really connect with that side of India. It was so disconnected from what we'd seen. Tourists don't see the real India."
Cattle are sacred and roam free
Cattle roaming the streets were a memorable sight for her.
"Beef isn't on the menu, cattle are sacred in the Hindu religion. They just roam where they want and you make way."
While Valerie isn't sure that she would go back again she may consider visiting another continent with Christian Aid.
"It was a huge achievement for me to go and I'm glad I survived it. It was enriching to see for ourselves and meet people in very difficult situations. I think it has been life-changing. There is deeper awareness now of all we have and not to take it for granted and of making a difference to the lives of others in other countries.
Asked if she questioned her faith during her trip she replied that, on the contrary, it had been all-important.
"We depended on it every day to keep us safe," she said.
ENDS