St Mary's Church Bunclody was packed on Thursday night, 23rd March, for a Variety Musical Evening to celebrate 130 years of Mothers' Union in Ireland with music provided by students from Kilkenny College secondary school.
Money raised from this event will go to Mothers' Union Overseas Projects with women's literacy projects in Africa the special focus this year.
Kilkenny College students presented examples of their work and witness as musicians in the school and the presentation included classical violin and piano duets as well as solo and choral performances under the guiding eye of Ian Sexton, Director of Music at the college.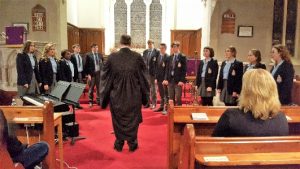 The programme included Sonata in E by Scarlatti, Bach's Gavotte en Rondo, Patrick Hadley's I Sing of a Maiden, a Hymn to St Cecilia by Herbert Howells, Massenet's Meditation as well as traditional and modern pieces.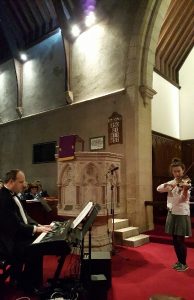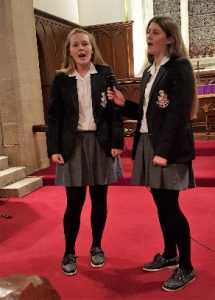 Margaret Deacon, Leader-in-charge, Bunclody Union of Parishes introduced the evening and told the audience a little about what Mothers' Union's aims are:
"The MU is a worldwide Christian organisation working in over 80 countries and actively seeks to support families who are vulnerable in society," she said, "and members of the MU around the world respond to the needs they see within their own communities e.g. across Ireland and the UK, members run 'away from it all' holidays that give families the opportunity to have quality time together – families who desperately need a break and some extra support.
In many areas of the world MU members are active in supporting families whose lives are impacted by imprisonment. The SKIP programme supports the children of imprisoned parents. In this area we support the work of the Family Centre in the Midlands Prison in Portlaoise.
Overseas there is a great variety of projects but one of the most important is the literacy programme which we are specifically fund-raising for tonight.
Those of you who are familiar with the Bishops' Appeal will know that they are presently supporting MU projects in Ethiopia. The MU has run literacy programmes in Burundi, Malawi, Sudan and South Sudan since the year 2000 and over 160,000 people have benefited from the programme. Its goals are to help reduce poverty, improve family life and help tackling AIDS and HIV and to increase participation of women and girls in education and employment."
She thanked Kilkenny College's Director of Music, Ian Sexton, and the students, some of whom are sitting their Leaving Certificate exams shortly for the time, effort and planning that went into organising the musical evening.
Rector of Bunclody Union of Parishes, the Reverend Michael Stevenson also congratulated the students on the quality and variety of their presentation.
Principal of the school, Simon Thompson, was also in attendance.