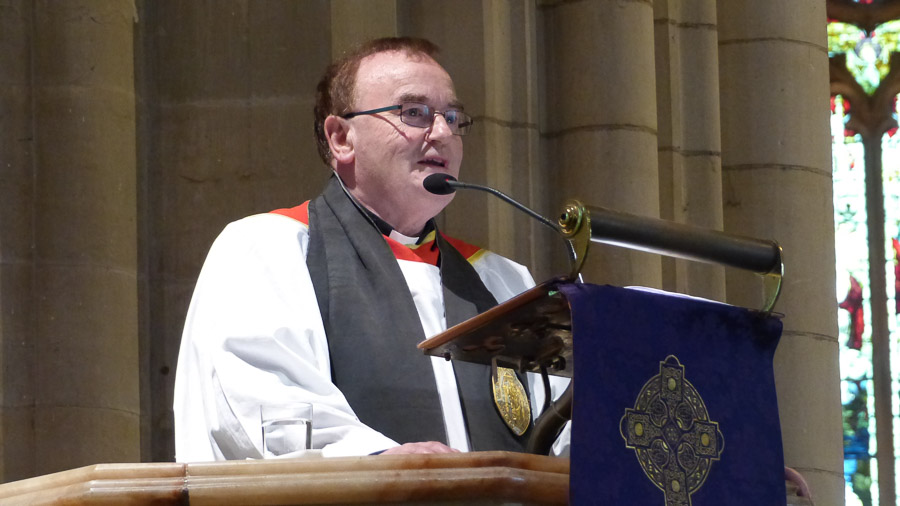 THE REVEREND DR PHILIP KNOWLES – A MAN OF TALENT, KINDNESS AND WARMTH
The Very Reverend Dr Philip Knowles, Church of Ireland Priest-in-Charge of the Narraghmore Group of Parishes in the Diocese of Glendalough and former Dean of Cashel, died peacefully on Tuesday July 2 last after a long illness.
His funeral service took place on Thursday July 4 at 11 a.m. in St James' Church, Castledermot and his funeral Eucharist was held in Cashel Cathedral where the Very Reverend Tom Gordon, Dean of Leighlin, gave the homily.
Philip Knowles was educated in Trinity College Dublin and the Church of Ireland Theological College. Ordained in 1977 he served as a Curate in St Paul's, Lisburn and went on to be incumbent of Cloonclare with Killasnett and Lurganboy from 1979–87 and of Gorey from 1987–95.
He served as Dean of Cashel from 1995 until his retirement in 2013. He was Priest-in-Charge in Narraghamore since 2016.
Speaking at the Funeral Service in St James's Church, Castledermot, the Archbishop of Dublin, the Most Reverend Dr Michael Jackson, described Dr Knowles as a person who combined carefulness about worship with carefulness about people in a way that is the hallmark of the parish priest in the Church of Ireland tradition. He also spoke of how Philip sought to make music and to create harmony wherever he went.
"Philip gave more than ever he took and retained a strong and powerful sense that The Lord indeed would always provide. This stood him in very good stead when his illness struck," the Archbishop said.
In his address at the Funeral Eucharist in Cashel Cathedral, the Very Reverend Tom Gordon, Dean of Leighlin, a close friend of Dr Knowles, spoke of his kindness, warmth and sensitivity, of how he was a person of 'relationship, hospitality and of generous welcome' and of how he had supported others even when he had his own medical challenges. He also mentioned his musical talent and involvement with choirs.
"As we bid farewell to Philip – brother, uncle, priest and friend," he said, "it is hard to imagine a world, a community, a diocese, a church without a Philip. He seemed a timeless part of the furniture of our lives but today we give thanks for the life of a kind and gentle soul and a presence which, above all, was a light unto our path and a window unto God."
Bishop of Cashel, Ferns & Ossory, the Right Reverend Michael Burrows also commented:
"Philip was truly unique, a person of remarkable talents and great diligence whether in the pastoral or musical context.  He enriched many lives, and encouraged and motivated others always to give of their best, just as he did himself . He was one of those special people whose epitaph truly can be 'a man greatly beloved'."
Photo credit: Jonathan Hull