On Sunday 9th September the 200th Anniversary of St Andrew's Church, Rathdowney was celebrated at a special service conducted by Bishop of Cashel, Ferns and Ossory, the Right Reverend Michael Burrows.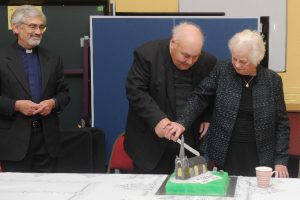 Architecturally, the detached Georgian Gothic Church of Ireland church, dated 1818 and situated in The Square, Rathdowney, is known for its tower and needle spire as well as for its pointed-arch windows and doors.
The church was packed for the occasion, the Reverend Richard Seymour Whiteley, rector of Rathdowney Union of Parishes says, with many friends from the wider community of Rathdowney present also, along with clergy who had ministered in Rathdowney parish in the past.
"These included Canon George Salter, Rathdowney's last ever full-time curate, who started in Rathdowney in March 1949, the Reverend Tom Sherlock, the Venerable John Murray and the Reverend Baden Stanley."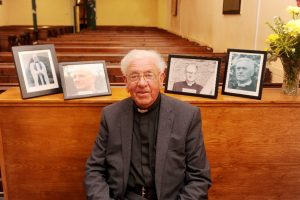 He went on to say that Rathdowney National School gave a lively presentation on St Andrew at the service, as well as singing a St Andrew related hymn and providing art work for the pulpit that depicts the life of a fisherman.
In his sermon Bishop Burrows took the congregation through the religious, political and social history of Ireland in the 200-year life of Rathdowney church.
Refreshments were served in the Parochial Hall afterwards and a 200th Anniversary cake in the form of a model of St Andrew's was cut by the parish's oldest member, Tom McClean, and his wife, Gladys.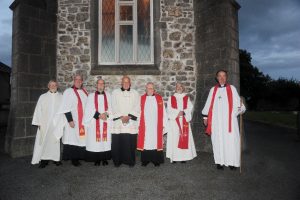 "It was a joyous, positive occasion in a thronged church,"  Bishop Burrows said after the service. "We reflected on how to cherish the past but not be beguiled on it. Our call now is to enter hopefully a future that is already God's."
Photo credits: Saundra Thompson
ENDS